Question
How do I request a new Global Teams employee?
Availability
| | | | | |
| --- | --- | --- | --- | --- |
| HR Plan: | Free | Standard | Premium | Platinum |
| | | | |
| --- | --- | --- | --- |
| User Access: | Employee | Manager | Admin |
We base the default access level on a per user basis and whether they have view, edit and delete access and excluding any changes made via our Custom Security feature.
Answer
You can use the Add Global Teams Employee feature to add a new Global Teams employee to your Employment Hero HR platform.
Submit your Global Teams employee request
Click the Personnel menu.
Click the Employees submenu.
Click the Global Teams tab.
Complete the following fields:

Full name.



Helpful Hint

Please provide the employee's legal name if possible.

Personal email.
Residential address.
Mobile number.
Country.
Residency status.

Complete the following fields:

Job title.
Employment type:
Intended start date with Global Teams.
Original employment date, if already employed.
Primary manager.
Gross annual base salary.

Complete the following fields:

Working hours:

Standard hours.
Custom hours.
Normal working days of the week.
Normal start and end times.

Probation period.
Notice period.
Annual leave.
Sick leave.
Position description.
Further information
What happens after you submit a request?
Once you have submitted your request for a new Global Teams employee, our Global Teams experts will run through the following process:
Review: Our Global Teams experts will review the provided information against local regulations and reach out if any additional information or adjustments are required.
Proposal: Once we have all necessary information and it is compliant with local regulations, we will issue a Global Teams proposal for you to review and sign. This proposal outlines the costs, entitlements, and contractual information regarding the Global Teams service.
Employment Agreement: Once the proposal is signed, we will prepare an employment agreement for your new hire. We will first send this employment agreement to you for review and approval before issuing it to your candidate to sign.
Onboarding: Once the employment agreement has been signed, we will onboard your new hire into your Employment Hero organisation.
Watch the training video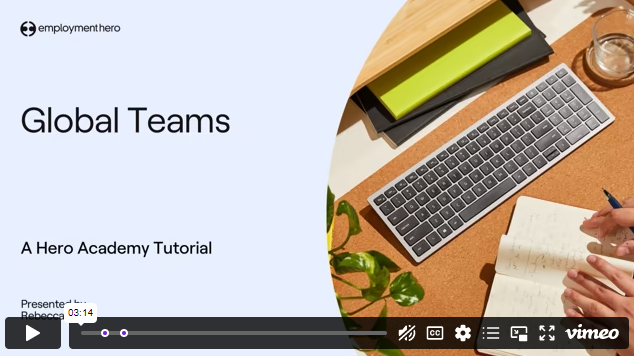 Author recommended
So you have added a Global Teams employee, and you are wondering, what can I do next? There are two recommendations I would make on this front and they are: