Purpose
Providing you with a step-by-step guide on how you can process a super batch payment, which you can do via the Super Payment module. You will need to undertake the below steps via your Employment Hero Payroll platform. To process a super batch payment, you need to complete the following prerequisites:
Availability
| | | |
| --- | --- | --- |
| Payroll Plan: | Standard | Premium |
Getting started
This section will walk you through how you can process a super batch payment via our clearing house Beam. You will first need to set up and register with Beam and assign an employee super fund.
Processing a super batch payment
Click the Business Settings menu.
Click the Super Payments submenu.
Select from the following filter options:

Date range:

This month.
This quarter to date.
Last month.
Last quarter.
Custom.

Pay schedule.
Contribution type.

Super guarantee.
Salary sacrifice.
Member voluntary.
Employer contribution.

Employing entity.

Click the Submit button.
Select the required payment method from the Payment Method drop-down.
Click the Acknowledge the Terms and Conditions tick box.
Watch the training video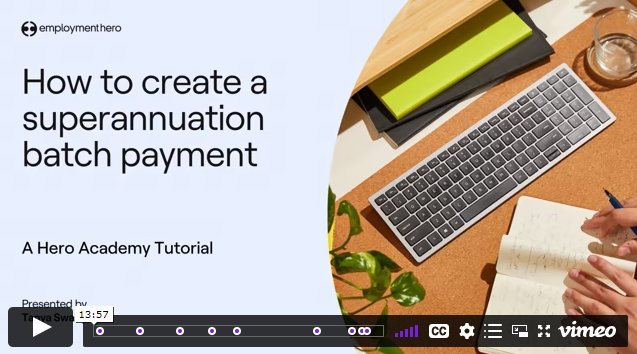 Author recommended
So you have now created your super batch payment and you are now wondering what next can I do. There are two recommendations I would make on this front and they are: